TOP
The Blue Tree Foundation always stands with the youth.
인사말
Corporate Sponsorship Guide
The Blue Tree Foundation(FPYV) is a non-governmental organization(NGO) established to inform the seriousness of school violence and to prevent and treat it. We are trying our best to protect the rights of disadvantaged and suffering children.
BTF waits for companies willing to cooperate with us on projects for youths.
---
Corporate Sponsorship
Corporate Sponsorship
- Cash donation by selecting the program or campaign that the company wants to proceed with
- Corporate product sponsorship (commodity sponsorship)
- Contributing part of the revenue when company's products and services are purchased
Employee Sponsorship
- Fund-raising by employees' direct participation (Before end of salary fund-raising, Regular sponsorship)
Matching Grant Sponsorship
- Company contributing the same amount sponsored by employees
Cause-related Marketing
- Working together on social issues by putting messages on corporates' products and promotional materials
Coin Bank Sponsorship
- Installing coin banks at offices and stores so that interested employees and customers can donate
---
Progress of Corporate Sponsorship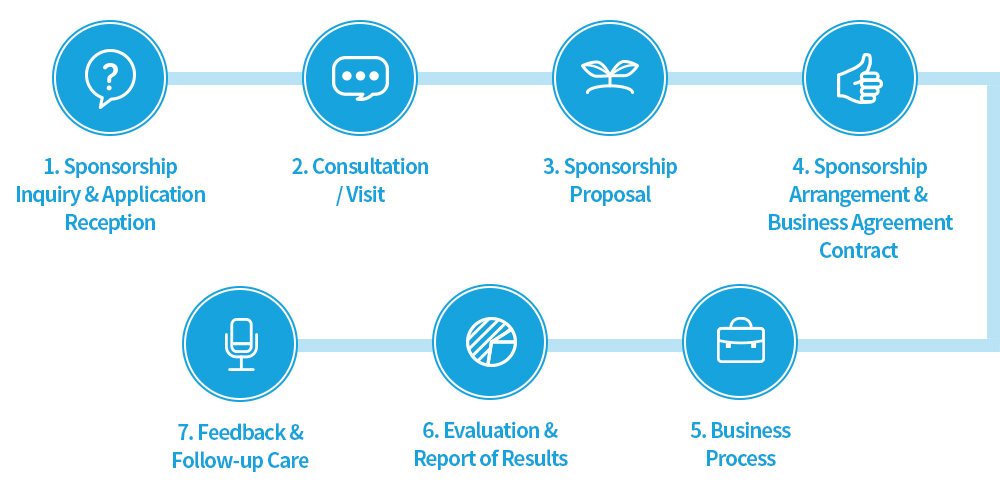 ---
Other Inquiries
Contact us for any questions related to corporate sponsorship
TEL. 02-585-0098 / Email. nanum@btf.or.kr